Alle studenten van De Online Wedding Academie zijn aan de slag!
Mogen wij stiekem een beetje trots zijn?
De drie pilottesters van De Online Wedding Academie zijn alle drie aan de slag als bruiloftsplanner.
Nog voor ze goed en wel afstuderen, startten Sarah, Petra en Sixtine al met hun eigen business. In de zomer van 2018 waren ze al aan het werk. Sterker nog, ze hebben heel veel aanvragen voor 2019!
Petra Proksch
Sarah Van de Zande
Sixtine Blondeel
Waar halen ze hun ervaring vandaan?
Wij zijn van mening dat ervaring een drieluik is –
De online training met de huiswerken
De eindopdracht onder supervisie van hun mentor
De observatieopdachten met hun mentor
De huiswerken
Ervaring is iets wat je krijgt als je de online training succesvol hebt doorlopen. Elke module wordt afgesloten met een huiswerk. Elk huiswerk komt vanuit de ervaring van de mentor. Real life problemen die een bruidspaar ooit heeft gehad en waar van onze studenten een creatieve oplossing wordt gevraagd. De mentor verbetert en stuurt bij!
De eindopdracht
Van zodra je start aan onze Academie, word je gekoppeld aan een bruidspaar (tenzij je zelf een bruidspaar wil zoeken).
De eindopdracht bestaat er uit dat je je in real life een bruiloft plant en begeleidt volgens een uitgekiend en strikt stappenplan.
Je wordt dus voor de leeuwen gegooid, met de mentor heel dicht bij je, zodat je nooit kopje onder gaat.
Hoewel kopje onder gaan best one hell of an EXPERIENCE kan zijn, want zo word je ten volle voorbereid op het leven van bruiloftsplanner.
Been there, done that en have that t-shirt.
De observatiestage
Anderzijds geloven wij dat ervaring ook kan opgebouwd worden door observatie van het geleerde van (en mee helpen met) een professional.
Door deel uit te maken van het team van een bruiloftsplanner pas je meteen toe wat je leerde in de online training.
Welke studenten doen wat?
De Online Wedding Academie heeft drie formules:
De workshop
De PLUS – formule
De VIP – formule
In de PLUS- en de VIP formule dienen beide groepen studenten een eigen bruiloft te begeleiden. Dat doen ze voor een bruidspaar, dat ze zelf zoeken of ze maken een keuze uit de contactenlijst van De Online Wedding Academie.
De VIP-STUDENTEN lopen mee met de bruiloften van Mint & Memories.
Sarah assisteerde bij de bruiloft van T & V in het Kasteel van Brasschaat.
Sixtine assisteerde bij het huwelijk van D & R in Hasselt (Kaai 16).
Petra assisteerde bij Adeline en Karel in landgoed Altembrouck in 's Gravenvoeren.
Bijkomend voordeel van deze wijze van werken: het wordt onze studenten toegestaan om (op een discrete manier uiteraard) beeldmateriaal te verzamelen zodat ze al meteen een portfolio hebben.
De bruidsparen zelf zijn enthousiast want zij krijgen er een assistent bij voor wie ze niet hoeven bij te betalen (ze hoeven zelfs geen lunch te voorzien, onze studenten brengen hun eigen lunch mee).
Dat alle meeloopstages tot een goed einde werd gebracht en dat onze studenten zeggen dat ze veel hebben bijgeleerd, bewijst nog maar 's dat De Online Wedding Academie wérkt.
Interessant?
Meer weten over onze studie-formules?
Schrijf je in voor onze mailinglijst.
---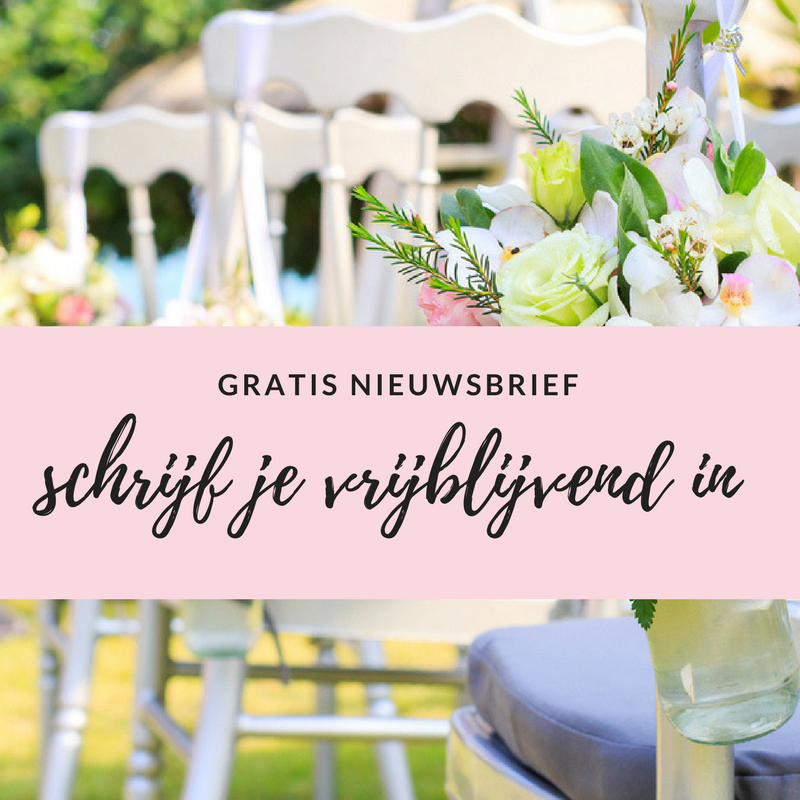 Bedankt voor het lezen!